Here's a PSA: We need to listen to the teenage girls in the show.
Content Warning: sexual assault
At the start of this year, after the second season premiered, I binge-watched both seasons of the wildly popular Netflix series, Sex Education.
The trope of the high-school coming of age story in pop culture as a cesspool of hormones, cringe-worthy flings, heartbreak and awkwardness is not new. In Sex Education, however, the well-established cliques dissolve through our television screens. What is new – and I think extremely well done – in Sex Education is the growth and development given to the teenage girls on the show.
First of all, the sheer number of female characters outweighs the main male leads in the show, which is quite awe-inspiring. At the end of season two, there are six of them; Maeve (Emma Mackey), Aimee (Aimee Lou Wood), Ola (Patricia Allison), Lily (Tanya Reynolds), Ruby (Mimi Keene), and Viv (Chinenye Ezeudu). Even if Otis (the main male protagonist) holds the narrative together, it is very easy for him to be overshadowed by the army of women around him. Yes, yes, Asa Butterfield is a-dork-able as Otis, but the girls certainly do not need to compete for screen time.
Each girl has their own unique flavour of sass that they bring to Moordale Secondary School. While the boys are off graffitiing walls and too scared to get out of the swimming pool (because ~erections~), the girls are trailblazing with their encouragement and optimism that teach us about street smarts, sex (hence the title), identity and – perhaps most importantly – that the anxieties of high school are not forever.
In a flashback, Maeve is seen telling someone rebuking her for the way she dresses as "perpetuating old-fashioned ideology". This is not dialogue normally heard from a young teenage girl and damn, it is refreshing. Maeve taught me that absolutely no woman should stand for victim-blaming in any circumstance where they are made to feel responsible for unsolicited attention they receive.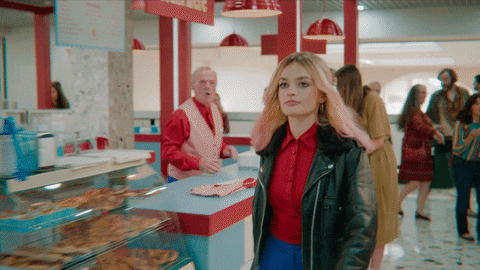 One particular scene has stuck with me that I haven't seen done well very often in teenage comedy/dramas. When one of the girls, Aimee, is sexually assaulted, they start to share their unwanted experiences interacting with males and begin to bond over the unfairness of it all. They fight, but just as the recurring theme of facing girls off against each other starts, it gets flipped on its head. Because of this, I learnt from them that you don't have to have similarities to the women around you to find common ground. It's so easy to see teenage girls (and mature women) fighting because they can be cruel to each other – for the drama – and it's so welcome to see this inverted.
This is such a joyous moment for television, and it goes deeper than the act itself – their unity in protecting each other stands as a hope that a gathering of women with a common enemy ("non-consensual penises") is a formidable thing.
As it turns out – I'm not the only one with the opinion that this scene/episode is one of the best seen on television for a while. This Buzzfeed article outlines all of the initial reactions to it and another describes how it was an uplifting viewing experience for a sexual assault survivor.
Overall in the series, Otis' mum wins the one-liner game with "You're sixteen, you're not supposed to know the answers to anything." And truly, it might be easy to dismiss teenagers for being teenagers, overlooked for not being in the world long enough to figure out life's hard questions. But the young women in this show are recognised for their kindness and ability to form deep connections early on that will translate into strong adult friendships, and those are hard to find sometimes. So we should learn from them and not discount them.
If you haven't already – please watch Sex Education. It's funny and clever and very witty and you get much more than a high-school-level sex education. One thing that saved 2020 for me is the recent news of the third season restarting filming again after it's COVID hiatus. I'm looking forward to falling back into high school with these girls as they grow more and more into fierce women. Here's the last lesson that the Moordale girls teach us: don't be afraid to be brave, just like them. 
---
Season 1 and 2 are streaming on Netflix now.